Cosmetic Dentistry – Columbus, NJ
Achieve the Smile You've Always Wanted
Do you instinctively cringe when someone suggests taking a picture of you? If your teeth are gapped, stained, or cracked, you probably know that feeling all too well. Our team at Columbus Dental Arts is here to help you gain a more confident smile through cosmetic dentistry. There are multiple ways that Dr. Maria Maiorino can correct the imperfections in your teeth and give you something to smile about! To get started, give us a call and we can set up a consultation to discuss your options for cosmetic dentistry in Columbus, NJ.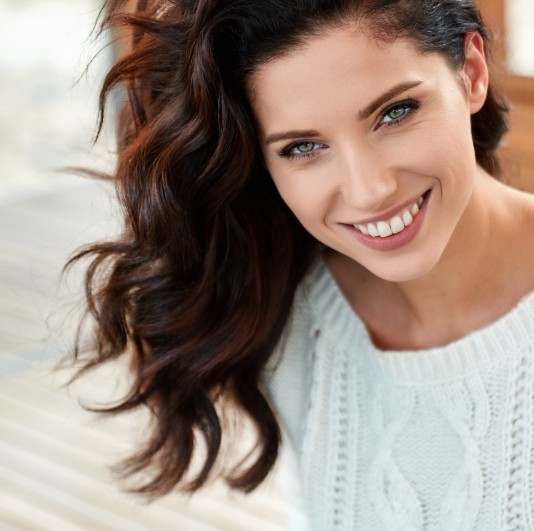 Why Choose Columbus Dental Arts for Cosmetic Dentistry?
Conservative Approach to Dental Care
Compassionate All-Women Dental Team
Dentist with 30+
Years of Experience
Porcelain Veneers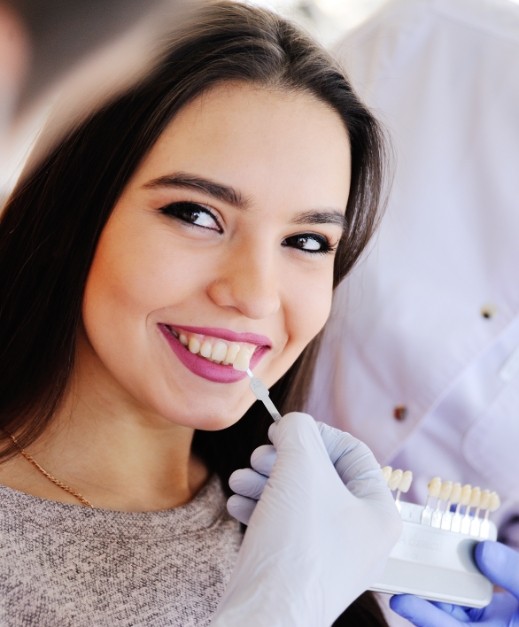 With veneers, you can kiss multiple smile flaws goodbye in just two or three appointments. Once we've placed these thin ceramic coverings over the front surfaces of your teeth, they instantly conceal discoloration, chips, and small gaps. Veneers can even correct mild cases of crooked teeth, earning them the nickname "instant orthodontics." Whatever you're looking to fix about your smile, veneers are by far the most comprehensive way to meet your goals.
Metal-Free Dental Crowns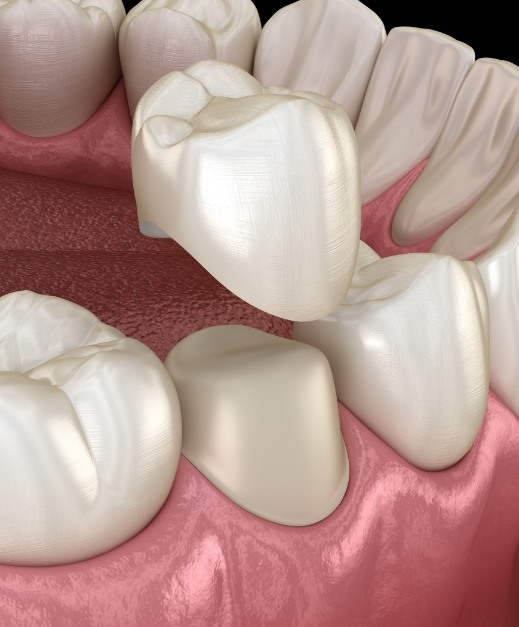 When a tooth in the front of your smile needs repair, the last thing we want is to place a dark metal crown that would stand out against the rest of your pearly whites. Instead, we can restore the tooth with a metal-free dental crown. Made from tooth-colored materials like porcelain and zirconia, these restorations build up your tooth's structure without compromising its appearance. In the end, the only people who will be able to distinguish it from your uncrowned teeth will be you and our dental team!
Cosmetic Dental Bonding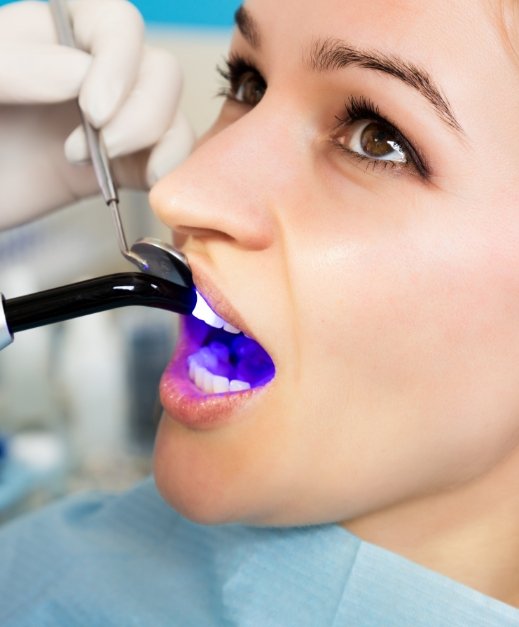 Looking to fix a few minor flaws? Cosmetic dental bonding is one of the fastest and most affordable ways to make that happen. Dr. Maiorino can apply a composite resin to your tooth and sculpt it to cover up the offending imperfection. Since the resin has been color-matched to mimic your natural tooth enamel, it will blend right in. The process is painless, the treatment can be completed in one hour, and the results can last for up to 10 years.
Teeth Whitening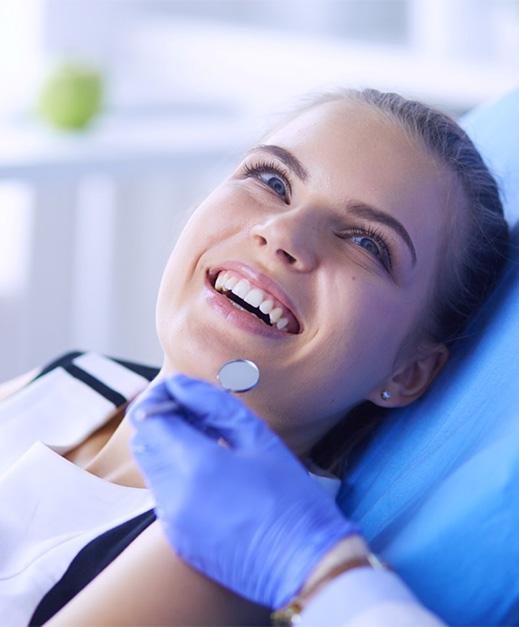 From daily coffee drinking to a smoking habit to the natural process of aging, there are plenty of reasons why your teeth may not shine as brightly as they used to. Whatever the cause of your tooth discoloration, professional teeth whitening can breathe new life into your smile. We offer in-office treatment or can provide you with a LifeLike® take-home whitening kit, which contains tailor-made trays and ultra-strength bleaching gel. No matter which option you choose, you can enjoy a bright grin once again!
Learn More About Teeth Whitening
Smile Makeovers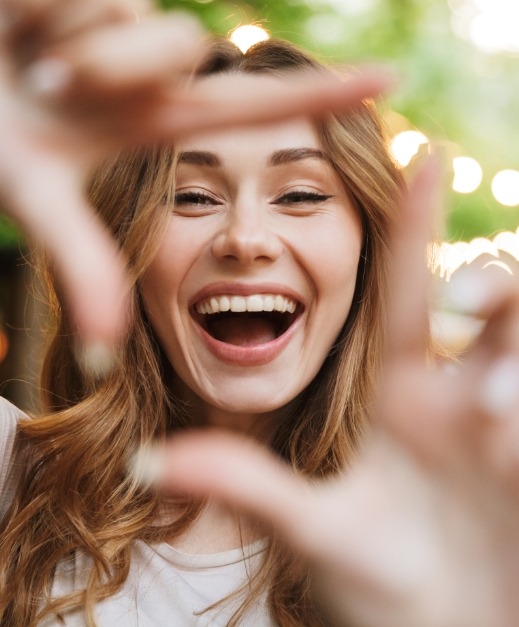 Are there so many imperfections in your teeth that you don't even know where to start fixing them? If so, ask us about smile makeovers! Rather than treating each individual issue on its own, we can come up with a personalized treatment plan to give you a smile you can be proud of as efficiently as possible. Smile makeovers draw on multiple cosmetic and restorative dental procedures, resulting in a grin that is fully functional as well as gorgeous.
Learn More About Smile Makeovers
Understanding the Cost of Cosmetic Dentistry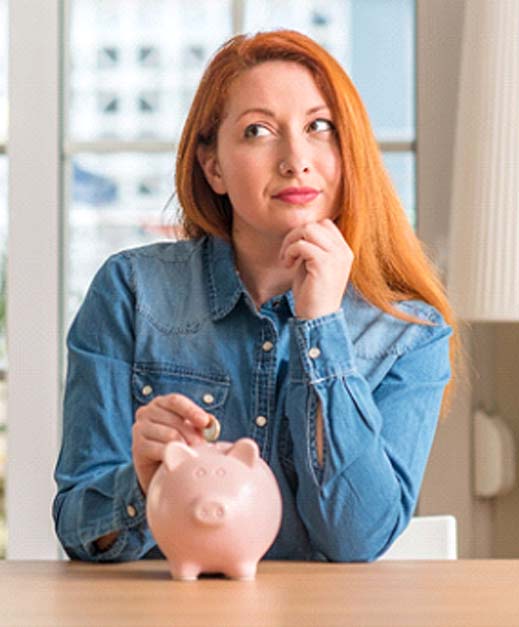 Are you worried about the cost of undergoing cosmetic treatment? A lot of the time, patients are concerned because aesthetic treatments aren't typically covered by dental insurance. Fortunately, we're here to help you navigate the cost of treatment, as we offer a variety of cosmetic solutions to help you achieve a wide array of smile goals. Here are some things for you to consider.
What Cosmetic Dental Service is Right for Me?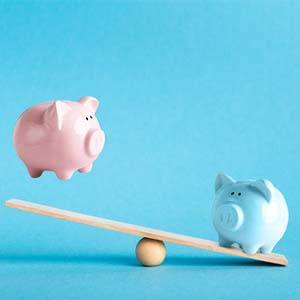 Often times, patients are trying to achieve teeth that are either whiter or shaped differently. Here are how some of our options can help in these cases:
Direct Bonding – This is a minimally invasive procedure that can be completed in a single visit. It's one of the most affordable options out there and can correct a variety of minor imperfections, like chips and stains. Depending on how well you maintain the results, direct bonding can last anywhere from 3 to 10 years.
At-Home Teeth Whitening – Teeth can become discolored in numerous different ways, but Life-Like® take-home teeth whitening can lighten your smile in just a few weeks. This is another more affordable cosmetic option, and results can last anywhere from a couple months to a few years depending on how well you care for them.
Veneers – Veneers aren't the cheapest option out there, but they do tend to be the easiest way to transform numerous aspects of your smile at once. This includes the color, shape, and minor misalignment issues. The process can be completed in as little as two appointments, and they can last up to 15 years or longer.
Smile Makeover – This treatment simply combines several services together for a more dramatic change. It isn't the most affordable option, but it is a comprehensive way to help you achieve the perfect smile of your dreams in the best possible timeframe.
Cosmetic Dentistry Can Be an Investment Worth Making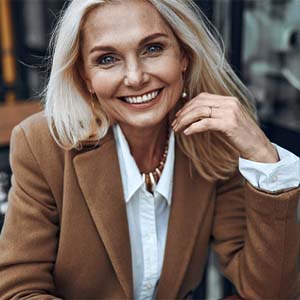 Cosmetic dentistry feels like a big commitment, but it's also an investment that will pay off over time. If you are feeling self-conscious about your smile, making changes with the help of your dentist can lead to significant improvement for both your confidence and self-esteem. Ultimately, this can mean better relationships, a more vibrant social life, and a higher quality of life! By taking a look at the entire picture, you can better determine if this is a worthwhile investment for you.
How to Make Cosmetic Dentistry Affordable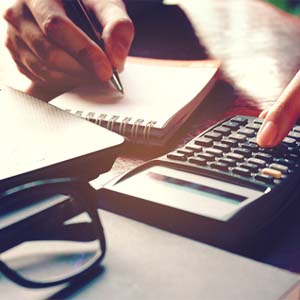 In the vast majority of cases, cosmetic dental treatments aren't covered by dental insurance since they are considered to be elective. However, this doesn't mean that you're left completely on your own. We're happy to accept numerous payment options and work with our patients to help treatment fit into their budget. Currently, we have a special offer for $100 off Life-Like® Teeth Whitening. Contact us to learn more!
To get additional information and find out exactly how much you can expect cosmetic treatment to cost for you, schedule a consultation with us. Our team looks forward to helping you transform your smile!
Cosmetic Dentistry FAQs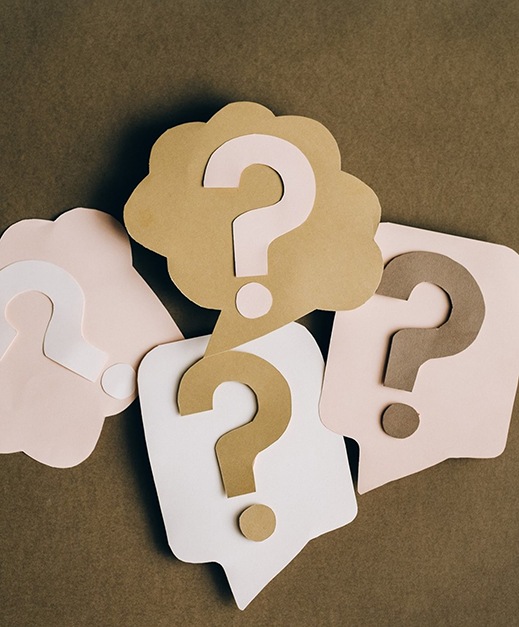 If you aren't happy with the way your teeth look, your cosmetic dentist in Columbus can create the picture-perfect smile you desire. It is normal to have a few concerns before you are ready to move forward, but there isn't any reason to worry. We will explain everything during your cosmetic consultation. While you wait for your appointment, here are the answers to a few frequently asked questions.
Is cosmetic dentistry expensive?
It's a common misconception that cosmetic dentistry is unaffordable for the average person, but this couldn't be further from the truth. There are more treatment options than ever, which means there's a solution that will fit your budget. Various factors will affect the amount you will pay, such as any preparatory procedures and the complexity of your case. After examining your mouth and learning more about your goals, we will create a personalized treatment plan and review your estimate. Our office accepts a variety of payment methods to make paying for your new smile affordable.
Can I use my dental insurance to pay for cosmetic dentistry?
Most dental insurance plans won't cover elective procedures, but there are some exceptions. Many cosmetic treatments also provide restorative benefits, like dental bonding or crowns. If a service is necessary for your oral health, you can use your dental policy to lower the amount you will pay out-of-pocket. Although every plan differs, most policies cover common restorative procedures by 50% to 80% after reaching your deductible. A member of our team will work on your behalf to handle all the paperwork, so you have one less thing to worry about. We will explain how your insurance is being used and if there's any remaining balance. We will review your payment options for any out-of-pocket costs.
How long will my results last?
Every procedure has a different expected lifespan. Not to mention, your lifestyle and oral hygiene habits will also affect your results. Some procedures can last for anywhere from a few months to several years, depending on how well you maintain your smile. A solid oral hygiene routine at home and regular care from a dentist will protect your investment. Your cosmetic dentist will also recommend avoiding anything that may compromise your results, like using your teeth to open packages, chewing on inedible objects, or smoking. If you play sports, wear an athletic mouthguard to protect your smile from damage. It is also important to wear a nightguard if you have a habit of grinding or clenching your teeth.
Is cosmetic dentistry right for me?
If you desire a confident, beautiful smile, there's a good chance cosmetic dentistry is right for you. Your dentist will examine your mouth to ensure your teeth and gums are healthy. If you have any untreated dental issues, they must be resolved before moving forward with any elective treatments. Your dentist will create an individualized strategy to revamp your smile. Take your first step toward a confident future. Contact our office today to schedule your consultation.