Restorative Dentistry – Columbus, NJ
State-of-the-Art Repair
for Damaged Smiles
Has one or more of your teeth seen better days? Tooth enamel is incredibly strong, but it's still subject to wear and tear over the years. Unfortunately, your teeth cannot heal themselves after they've become broken or decayed. That's why we offer restorative dentistry treatments here at Columbus Dental Arts. Contact us to learn how Dr. Maria Maiorino can repair your smile with lifelike, long-lasting results through restorative dentistry in Columbus, NJ!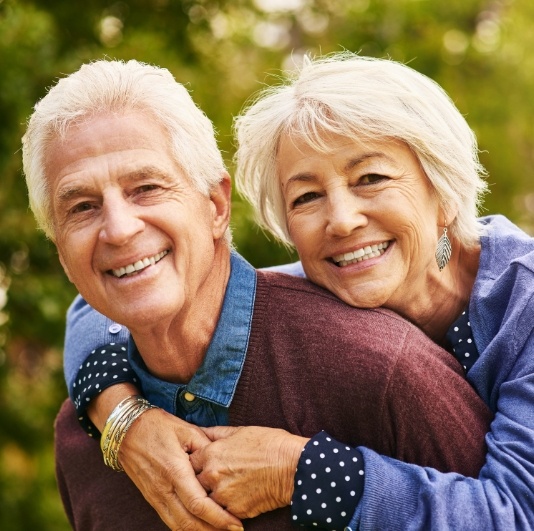 Why Choose Columbus Dental Arts for Restorative Dentistry?
Patients of All
Ages Welcome
In-Network with Many Dental Insurance PPOs
Dentist with 30+ Years
of Experience
Tooth-Colored Fillings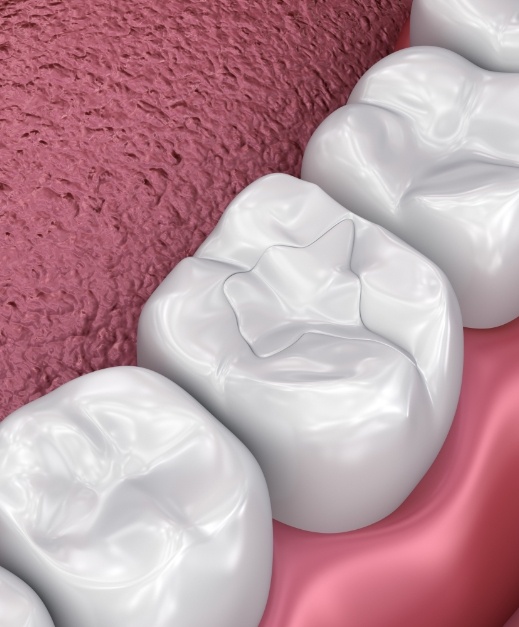 Thanks to tooth-colored fillings, we can treat minor cavities without sacrificing the natural appearance of a tooth – something that is next to impossible to do with traditional metal fillings. Tooth-colored fillings are made from a composite resin that we custom shade to match your enamel. Then, we sculpt the resin onto your tooth, rebuilding its structure so seamlessly that the filling practically disappears. Since tooth-colored fillings contain no metal, they also don't require as much enamel removal as traditional fillings, making them healthier in the long term.
Dental Crowns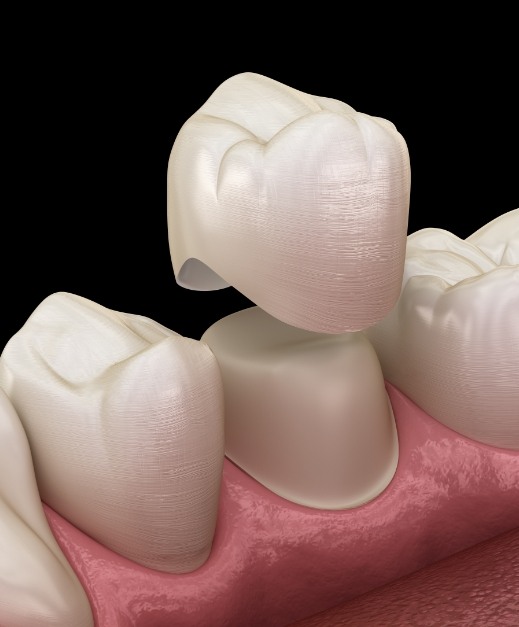 For more extensive damage, a dental crown can restore full function back to a compromised tooth. These "caps" are designed to fit snugly over the entire section of the tooth that protrudes past the gumline, making the tooth look and feel like new again while also shielding it from future damage. In fact, a dental crown can save a tooth from weakening and having to be extracted, allowing you to retain your natural smile.
Learn More About Dental Crowns
Dental Bridges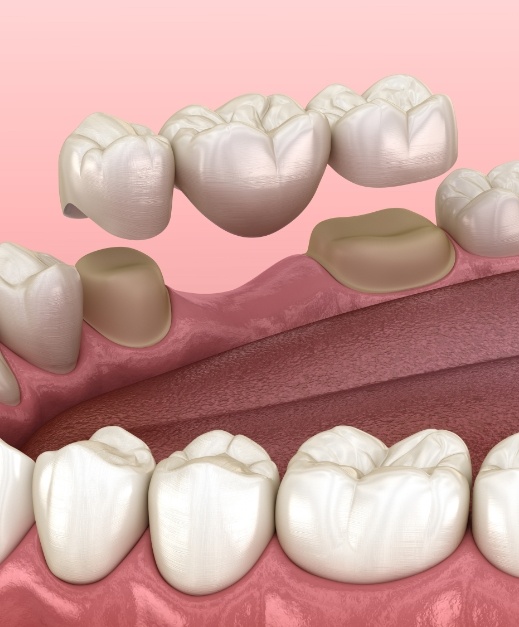 Dental bridges get their name from their ability to literally "bridge" the gap left behind when one to three teeth are lost. A dental crown is attached to the teeth on either side of the empty space, with a small number of lifelike ceramic teeth suspended between them. Not only do dental bridges make your smile look and function better after tooth loss, but they also prevent the remaining teeth from drifting out of place – a common occurrence after teeth have been missing for some time.
Learn More About Dental Bridges
Dentures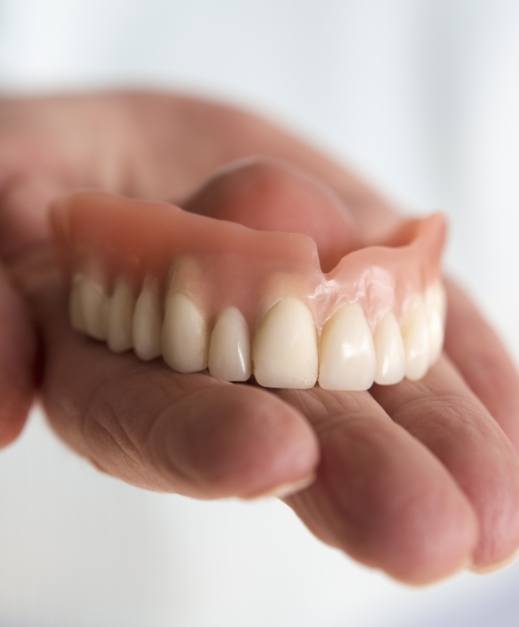 People have been using dentures to replace missing teeth for centuries. Thanks to modern dental technology, though, today's dentures are a far cry from the awkward, uncomfortable ones your parents or grandparents complained about! The prosthetics we provide are much more durable, comfortable, and natural-looking, enabling you to regain a strong bite and a confident smile. Whether you've lost a few, several, or all of your teeth, we can come up with a denture solution that meets your unique needs.
Dental Implants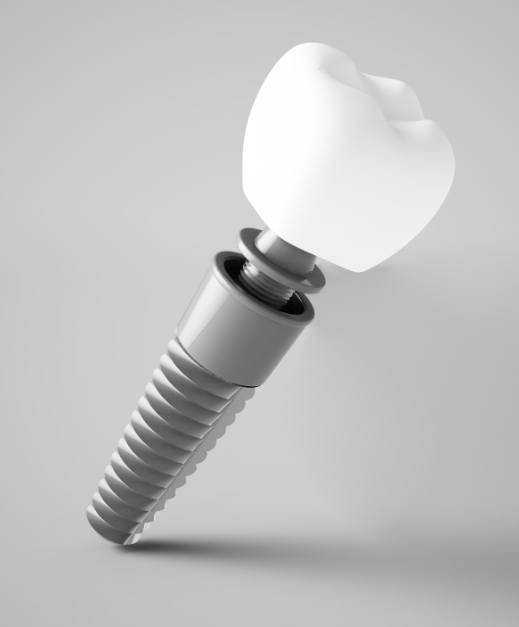 Dental implants can accomplish something that no other tooth replacement can do: recreate the entire structure of the tooth, from the root that is embedded in the jawbone to the crown you see above the gumline. This comprehensive structure gives dental implants the ability to give you replacement teeth that mimic your natural ones in look, feel, and function. They can bring back any number of missing teeth, and if you take good care of them, they can easily last for three decades or maybe even longer.
Learn More About Dental Implants
Full Mouth Reconstruction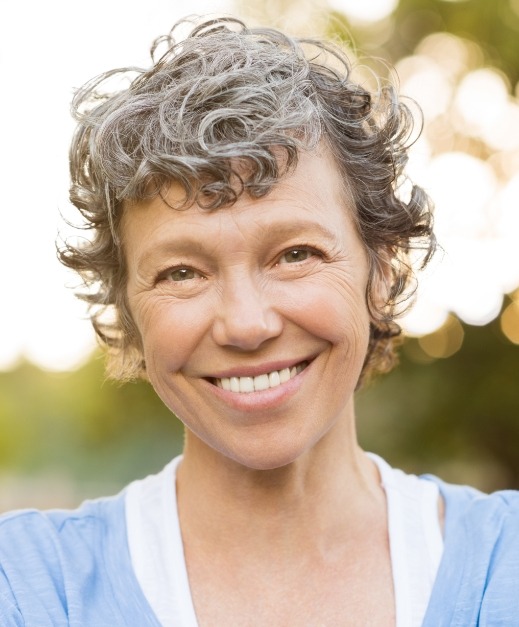 Patients with oral health issues all throughout their mouth require a comprehensive approach to treatment, and a full mouth reconstruction can help greatly. Dr. Maiorino can closely examine your teeth, gums, jaw, and other oral structures to gain a complete understanding of which issues need to be addressed. From there, she can determine which procedures would best relieve your pain and restore the function and appearance of your smile.