Dental Implants – Columbus, NJ
Lasting Tooth Replacement You Can Trust
If you were to ask Dr. Maria Maiorino about the best way to replace your missing teeth, she would almost always suggest dental implants. Why? In short, they're the next best thing to your original teeth. Dental implants look natural, stay in place without slippage, and can last for the rest of a patient's life. If you're interested in filling the gaps in your smile for good, our team at Columbus Dental Arts can't recommend dental implants enough. To learn more, or to schedule a consultation to discuss tooth replacement with dental implants in Columbus, NJ, reach out to our friendly team today!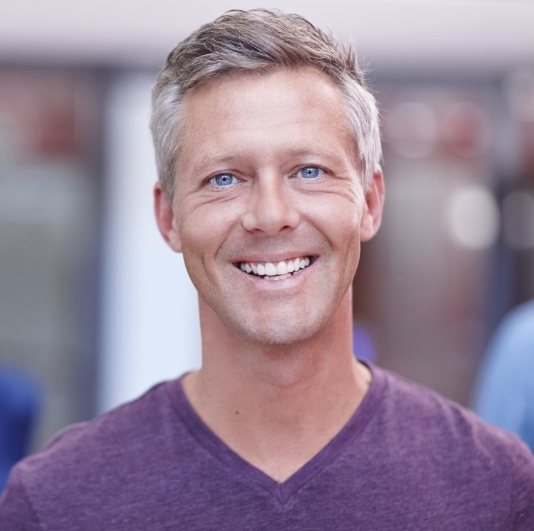 Why Choose Columbus Dental Arts for Dental Implants?
Partnered with Experts for
Implant Placement
Compassionate All-Women
Dental Team
Fair, Reasonable Prices with Zero Hidden Fees
What Are
Dental Implants?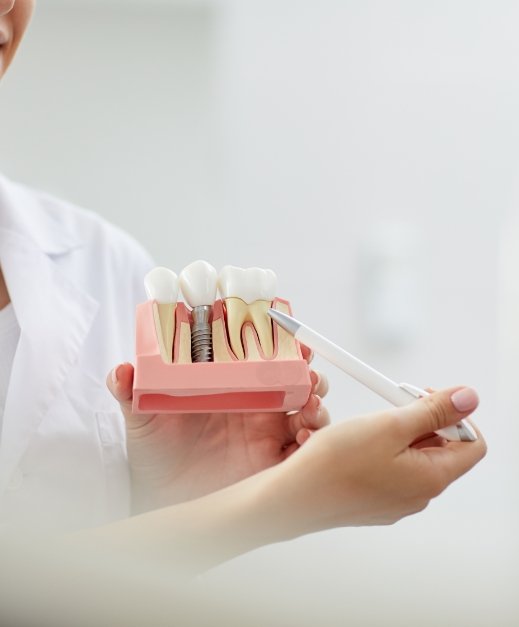 A dental implant has three components: a small cylindrical post, a restoration (which could be a crown, bridge, or denture) and an abutment that connects the two. The implant post – made from titanium, zirconia, or ceramic – is surgically placed in the jaw. Because of the biocompatible nature of these materials, the implant fuses to the jawbone. This allows it to support any number of replacement teeth with a stability that rivals that of your home-grown pearly whites. Better yet, dental implants can last for 30+ years with good oral care.
The 4-Step Dental Implant Process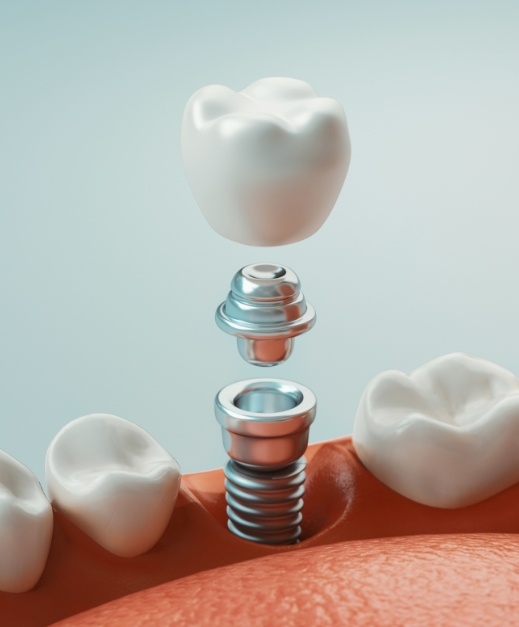 Depending on the details of your situation, the dental implant process may take several months to a year or longer. However, trust us when we say this solution is worth waiting for! To ensure you receive high-quality care, Dr. Maiorino works with the best periodontists and oral surgeons in the area. She'll walk you through the process during your appointment, but here are the four basic steps:
Initial dental implant consultation – Dr. Maiorino examines your smile and evaluates your candidacy for dental implants.
Dental implant surgery – We refer you to a trusted specialist who surgically inserts the implants into your jaw.
Dental implant osseointegration/abutment – The implants merge with your jawbone over three to six months. Then, metal attachments called abutments are secured on top of your implants.
Delivery of dental implant restoration(s) – We place your customized dental crown, bridge, or denture onto your abutments, completing your smile.
Benefits of Dental Implants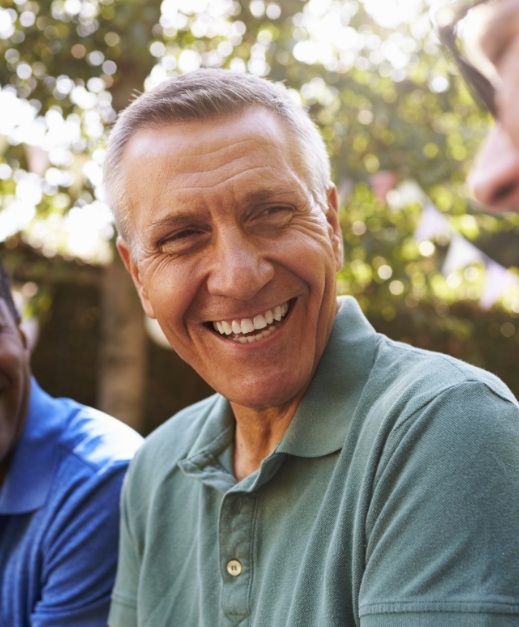 By replacing the root structure of a lost tooth in addition to its visible crown, dental implants provide a number of benefits that may not be immediately obvious. For example:
The implant posts remain securely in your jaw, allowing you to chew with full force without worrying about your teeth slipping out of place.
Your restorations are made from top-notch dental porcelain, which is an incredibly lifelike material.
In more than 95% of cases, dental implants can last for several decades.
Caring for implants is simple – just brush and floss as you would real teeth.
Dental implants are the only tooth loss treatment that prevents the jawbone deterioration that occurs after teeth go missing.
Who Dental Implants
Can Help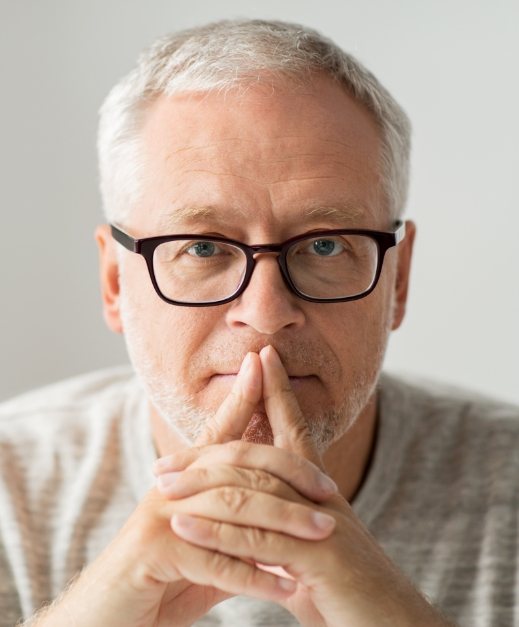 In general, almost any healthy adult who is looking to replace missing teeth is eligible for dental implants. This treatment is versatile enough to restore any number of lost teeth. As long as you are in good oral health and have a strong jawbone (or are willing to undergo preliminary procedures if that's not the case), then you can regain a complete smile! We can recommend a specific dental implant treatment plan based on the extent of your tooth loss.
Missing One Tooth

A single dental implant post topped with a porcelain crown can replace one missing tooth without altering the remaining teeth. This is a more conservative solution than a traditional dental bridge, which requires two of your natural teeth to be filed down in order to support the prosthesis. A dental implant renews the appearance and function of your smile without compromising any of your healthy tooth structure.
Missing Multiple Teeth

For patients who are missing multiple teeth in a row, an implant can be placed at each end of the gap to secure a dental bridge that is more reliable and durable than a conventional bridge. If your missing teeth are located at various points in the mouth, a small number of expertly placed implants can support a partial denture.
Missing All of Your Teeth

Even patients who have lost all of their teeth can benefit from dental implants. An average of four to eight posts are positioned in strategic ways throughout an arch to create enough support for a full denture. While traditional dentures can be loose and unreliable, implant dentures are just as stable as natural teeth. You can trust that you'll be able to eat your favorite foods and smile without fearing that your teeth will slip.
Understanding the Cost of Dental Implants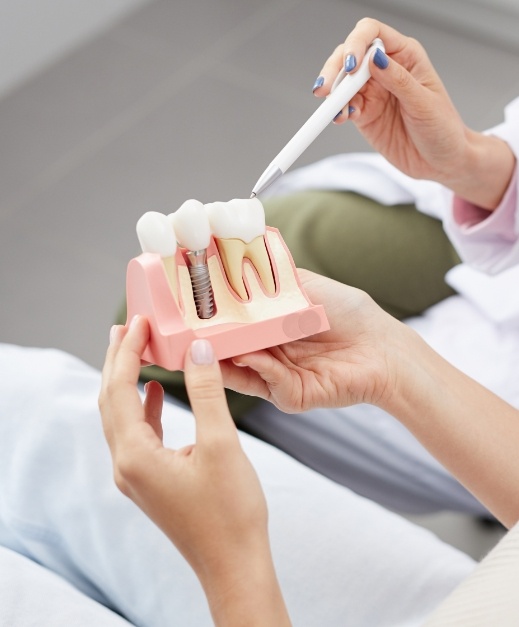 Because every treatment is different, the cost of dental implants varies from one patient to the next. Multiple factors have to be considered, including the number of implant posts you need, the type of restoration you're getting, and any preparatory procedures required. Our team will work with you to find solutions for replacing your missing teeth without breaking the bank!
It's worth mentioning that since dental implants can last a lifetime, they're more cost-effective in the long run than bridges and dentures that must be replaced every decade or so. Combined with the numerous day-to-day and health benefits that dental implants provide, they're definitely an investment worth making!