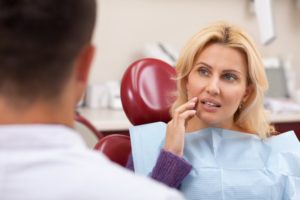 While a smile makeover can deliver major results for your appearance and confidence, it is a decision that shouldn't be made lightly. It involves multiple cosmetic treatments and is worthy of a detailed discussion with your dentist. After all, when an investment of time, money, and maybe a bit of discomfort is involved, it's essential to gather information and make the best decision possible. Part of that is asking the right questions. Read on to learn five of them you could ask during a cosmetic consultation with your dentist that should yield valuable feedback.
Will My Smile Makeover Look Natural?
You might have visions of a particular celebrity and worry your results might look fake or overdone. Not to worry – your cosmetic dentist is mindful of this and will strive to deliver natural-looking treatments. With that said, the skill and expertise of your dentist will go a long way to fulfilling that goal. Before you start treatment, it's important to verify your cosmetic dentist has extensive experience and qualifications.
Are My Smile Makeover Results Going to Last?
This a very logical question. After all, you might be taking time off work for your appointments and of course, there is a matter of what you are spending. While no dental treatments will definitely last a lifetime, some can last many years if you are diligent about oral hygiene and scheduling checkups.
A skilled cosmetic dentist can ensure your treatment is long-lasting. Be sure to ask them about their plan to maximize the life of your smile makeover and what you can do at home to help yourself.
What Flaws Can a Smile Makeover Address?
First, consider that each dental practice may offer a particular combination of cosmetic treatments. That affects what the answer is specifically. However, the vast majority of dental problems related to appearance can be addressed during a smile makeover.
Teeth that are discolored, crooked, misshapen, broken, uneven, or chipped all have solutions. It doesn't matter if you're trying to correct two teeth or 20 – your dentist can create an appropriate treatment plan.
How Long Will My Smile Makeover Take?
Here's another question that can only be answered when your dentist knows your combination of selected treatments. How complex are your dental issues? If they are minor, you might only require a single appointment.
On the other hand, when a smile makeover is transforming your grin, the timetable is likely to be extended for significant changes. Part of your consultation will entail your dentist assessing your needs and goals to provide an estimated date of completion.
Do You Have Examples of Previous Patients with Smile Makeovers?
It makes sense you would want to be confident in your dentist's ability to deliver the goods regarding your treatment. On that note, if they are confident and qualified, they will be happy to show you before-and-after photos of past patients. This will give you a better idea of what to expect for your own smile. It's a great idea to ask them about patients with dental flaws similar to your own.
Gathering all the information you can is a prudent way to approach big decisions like planning a long vacation, buying a car, or investing in a smile makeover. Developing good questions to ask your cosmetic dentist gives you the best opportunity to gain needed insight for confidently committing to your smile upgrade.
About the Author
Dr. Maria Maiorino has been working for the smiles of her patients for more than three decades. She earned her dental doctorate from Temple University and is a member of the American Dental Association. Dr. Maiorino offers veneers, metal-free dental crowns, and dental bonding; plus, be sure to ask about her special offer on teeth whitening. You can schedule a cosmetic consultation on her website or call (609) 324-9500.