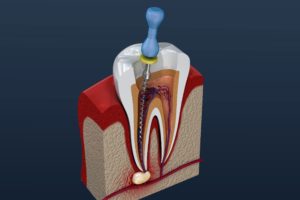 If you need root canal therapy, don't delay the procedure if your schedule is full. Time is of the utmost importance to save your tooth from needing to be removed. Although you might be busy, your dentist will use the latest technologies and techniques to streamline the process. A root canal can take 90 minutes to 3 hours, depending on your situation. Various factors will affect the duration of your procedure, but here's how long you can expect it to take.
What is Root Canal Therapy?
A root canal is an endodontic treatment recommended for severely damaged or infected teeth. A local numbing agent is used to block any pain signals while your dentist removes any decay and extracts the innermost layer of your tooth called pulp. After your tooth has been cleaned out, it's sterilized before being filled with a special material called gutta-percha. It's not uncommon to need a dental crown after root canal therapy to protect your tooth and restore its function.
How Long Does Root Canal Therapy Take?
Although the procedure may sound straightforward, every mouth and situation is unique. As a result, many things can affect how long you're in the dentist's chair, like:
The Complexity of Your Case: Simple root canals take 30 to 60 minutes, which is common for teeth with one canal. However, molars can have multiple roots, which will take longer to clean out, so you can expect 90 minutes or longer.
Preparation: Besides the location of the tooth, it's best to plan extra time for the preparation process. This can involve administering sedation or local numbing agents to keep you comfortable during the procedure.
Additional Procedures: A dental crown is often placed over a tooth after a root canal. The customized cap will cover the entire surface of the tooth to the gum line. Your tooth can be prepped for the restoration once your root canal is complete. Your dentist will take an impression of your mouth, which will be sent to the dental lab. A temporary restoration will be placed over your tooth while you wait. Once the dental lab has sent your permanent crown to your dentist in a couple of weeks, you'll return to the office to have it bonded to your tooth.
After your root canal, your mouth might be a little tender for a few days, but you can manage it using an OTC pain reliever. Your dentist may also recommend eating softer foods. If any sedation was used during your procedure, you may need to take it easy for the rest of the day.
You don't have to worry about a lengthy procedure to save your tooth. In no time at all, you'll be back to your daily responsibilities with a healthy smile.
About Dr. Maria Maiorino
Dr. Maiorino earned her dental degree at Temple University School of Dentistry and has regularly continued her education in advanced services, like root canal therapy. She is a proud member of the American Dental Association and many other professional organizations. If you need a root canal, contact our office today.